State Rep. John King of York County is offering legislation to ban Donald Trump from South Carolina.  He claims that throwing Rose Hamid out of his campaign rally was the last straw.  You see, Hamid is a nice peaceful Muslim woman who never did anything to anybody, except maybe for wearing a yellow star that was what the Nazis made Jews wear on their way to concentration camps.
Hamid is the president of a group called  Muslim Women of the Carolinas.  This group condemns Israel for ethnic cleansing and defends Hamas and refuses to call their attacks terrorism.  She calls it self defense.   From her Facebook page in 2014:
Sept 2014:
"Israel does not want peace, they want land and they want to ethnically cleanse the Palestinians from that land they have lived on for generations."
No, they lived in Jordan and were kicked out for being troublemakers.
She also posts from a terrorist propaganda site on a regular basis: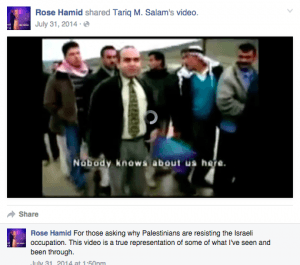 Hamid's Muslim Women of the Carolinas group has in the past promoted an event with Imam Siraj Wahhaj, an unindicted coconspirator in the trial of the 1993 World Trade Center bombing. Wahhaj, a 9/11 truther, has called for the creation of an Islamic state in the United States.
So, I guess Rep King is upset that a terrorist apologist was tossed out of the meeting.  Does that mean he hates Jews, too?  That is his line of logic.
King claims:
"I've heard Donald Trump insult immigrants, African-Americans, women, war heroes.  I just reached a point where enough was enough."
My take is King is a no name loser looking to make a name for himself, but because women and children might be reading this article, I can't tell you what that name is.
For the record, the legislation would not be able to bar Trump from South Carolina, it would only say that people offended by the expulsion of a terrorist sympathizer makes him unwelcome here.