I hate Curt Schilling.  I began hating him in 2004, when he beat my Yankees in the American League Championship Series.  He tied up the playoffs at 3-3 and the Boston Red Sox went on to the world series and finally beat the Curse of the Bambino in winning the World Series.  He pitched masterfully even though he had a serious cut on his ankle and his sock was covered with blood by time the game was over.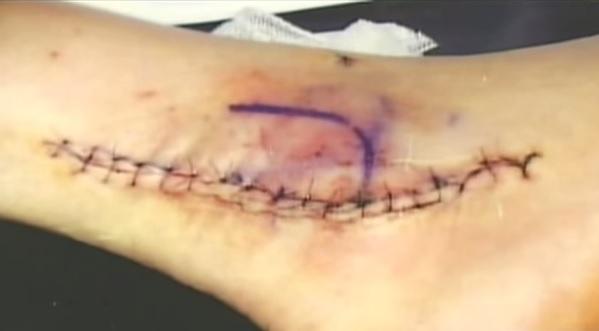 Even though I hate him, I admire him greatly for his courage both on and off the field.  Not many major league pitchers could have held the mighty Yankees with such an injury and very few ESPN commentators have the guts to stick to their guns when they knew it will lead to them losing their job.  Schilling has done both.  Schilling was interviewed by Breitbart News Patriot Forum.  He was introduced as  "pitching legend and conservative hero", which brought a smile to his face.
He spoke of conservatives at ESPN, who were forced to stay in the closet in order to hold onto their jobs.  Schilling lost his when he insisted that men need to use the men's restroom and women, the women's.  For this common sense observation, ESPN fired Schilling.  This is the image Schilling retweeted:
In his interview with Breitbart, Schilling made the following statements:
"It was apparent to me early on that if you wanted to go off topic as a sports person you had to go off topic left, or you were going to get in trouble."
"In the end for me it felt like that rule applied to me and me alone because I was conservative."
"Bigots are calling me a bigot. A bigot is someone who refuses to accept a different opinion. I will accept anyone's opinion."
"The memo that was sent out more than once was about they wanted on air-talent to focus on sports." 
"To me that means focus on sports unless you want to talk about something that is part of the liberal agenda."
Schilling also mentioned the 2016 presidential race when he said that Hillary should be sitting in a maximum security prison.
He mention controversial statements made by other ESPN commentators made from the left:
"You listen to Stephen A. Smith, and Stephen A. Smith was the guy who said that Robert Griffin didn't play quarterback for the Redskins because he's black. No, Robert Griffin didn't play quarterback for the Redskins because he [stunk]."
"Tony Kornheiser compared the Tea Party to ISIS. I don't know any planet where those are sports topics. But I don't care. It's OK. I think those conversations need to happen. But as soon as you go to the flip side, the right side, there are repercussions for not talking about sports."
Yeah, I hate Schilling, but I gotta admit, he's one helluva man and patriot.