104 Men Arrested In Multi-Year Child Prostitution Investigation [VIDEO]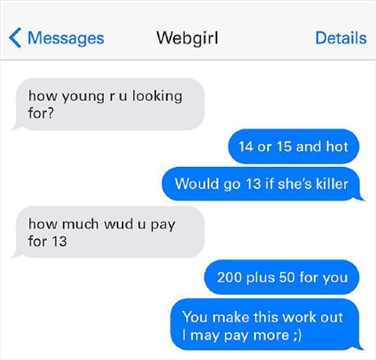 Over the last four years, an Ontario police force has tried to curb the practice of men paying for sex with underage girls by having undercover officers pose as child prostitutes online.
On Friday, York regional police announced that their operation, dubbed "Project Raphael," resulted in the arrests of 104 men allegedly looking to buy sex from children. Most arrests took place in York region north of Toronto
Det. Sgt. Thai Truong, of the force's human trafficking team, said no girls were harmed in the operation in which officers advertised sex services online as girls between the ages of 13 and 16.  Truong said that no victims of human trafficking were involved in the project and all of the suspects, who ranged in age from 18 to 81, were arrested for attempting to purchase sex with children.
Police have successfully arrested traffickers in the past who force children into the sex trade, Truong noted, but the prosecution is arduous on the victims.
"The biggest challenge for us when we're dealing with prostituted children is that enlisting their co-operation is very, very difficult," Truong said at a news conference north of Toronto in Aurora, Ont.
"So we're trying to take the onus off them as best we can and go after the men that are driving this industry and the men that are searching and purchasing our children."
Truong said the York force has a three-pronged approach to human trafficking: targeting the traffickers themselves who force women and girls to perform sex for money, rescuing the victims and stopping the demand for sex with children.
He said there were hundreds of men who responded to undercover officers' online advertisements and most of them stopped communicating when they found out they appeared to be dealing with underage girls — but 104 men didn't stop.
The arrested men came from all walks of life, Truong said.
Police showed texts allegedly sent from a 51-year-old trucker to an officer posing as a 16-year-old girl during the project.
"I have a really cool truck with bunk beds in the back we could have lots of fun," the man allegedly wrote.
"Lol im 16 mr … i still have to be careful i know … not sure if its safe in ur truck," the officer responded.
"I would be very careful and gentle with you. Guess you need some sleep you probably have school today," the man allegedly wrote back.
The men charged range in age from 18 to 71 years old, police said, adding that 19 men believed they were buying sex from a 13- or 14-year-old girl.
Of the 104 charged, 32 men have pleaded guilty, according to Susan Orlando, the provincial co-ordinator of the human trafficking prosecution team.
Orlando leads a recently formed team of Crown attorneys who specialize in human trafficking cases across Ontario.
"Almost all of these men were first-time offenders and had stable jobs and families and are not the type of people who you would usually see in the criminal justice system," she said, adding the sentences in the completed cases ranged from three months to seven months.
"All of the people who were caught in the sting were prepared to pay money for sex with children. When they showed up at that hotel room, that is what they expected to do, they didn't expect to see a police officer on the other side … in my mind it's a really serious criminal offence."
H/T The Spec, Global News