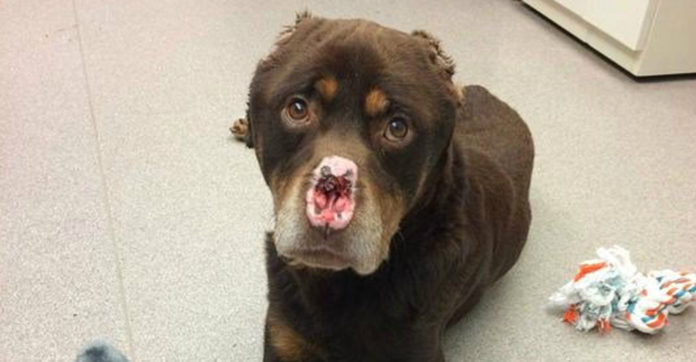 A $2,500 reward is being offered by the Michigan Humane Society. They want the person responsible for removing a Rottweiler's ears and nose found and arrested. On January 17, a citizen saw the seriously injured dog and called the MHS. The dog was taken to MHS' Mackey Center for Animal Care for treatment.
According to the organization's press release, on January 17, a concerned citizen who saw the dog in the area with his serious injuries, contacted the MHS. A rescue team raced to the site, found the Rottweiler mix and rushed him back to MHS' Mackey Center for Animal Care in Detroit. Once there, the shelter's veterinarian staff immediately began assessing the animal's injuries and working to make him comfortable. Mark Ramos, a lead investigator for the organization stated:
"It appears that someone purposely maimed this poor dog, which has caused it a great deal of suffering. This kind of cruelty is unacceptable. We need to be a voice for these animals and as a community we need to speak through our strong actions to make sure this doesn't happen again. This animal deserves justice."
No doubt his injuries had caused a great deal of suffering. Not only did someone intentionally cut off his ears and nose, but he also had cuts on his back legs, and his tail is gone. Despite this horrible abuse, the chocolate Rottie mix is very friendly. Mark Ramos, the lead investigator, said the dog is expected to recover and will be put up for adoption.
Take a look at this image: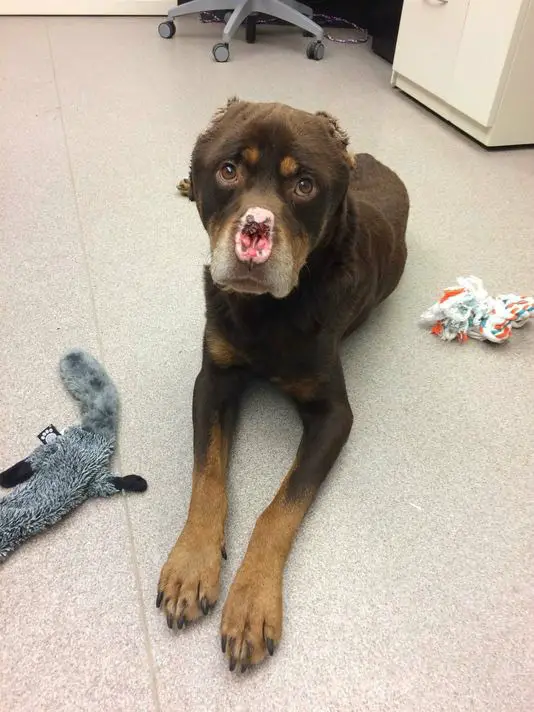 People who have information are being urged to call (313) 872-3401. Please help MHS find the beast who caused this dog so much pain.
Photo of Rottweiler found with ears and nose chopped off courtesy of Michigan Humane Society. To help with donations, please click here.
I hope upon hope that they find the bastard who did this.
Share away, people.
H/T Relay Hero