Alan Colmes was a man who would drive you nuts with his political rhetoric, but he was such a nice, funny and likable guy you would forget he was a left wing loon with his politics… most of the time.
Alan was a different kind of liberal.  He strongly believed in free speech, never tried to shut down the opposition's viewpoint, and would never shy away from a debate. A lot of people from today's Left could have learned a lot from Alan, and he will be sorely missed.
RIP Mr. Colmes.
H/T Fox News Insider
Fox News Channel's Alan Colmes has passed away at age 66 after a brief illness.
Colmes leaves behind his wife, Jocelyn Crowley, who issued the following statement:
Alan Colmes passed away this morning after a brief illness. He was 66-years-old. He leaves his adoring and devoted wife, Jocelyn Elise Crowley. He was a great guy, brilliant, hysterical, and moral. He was fiercely loyal, and the only thing he loved more than his work was his life with Jocelyn. He will be missed. The family has asked for privacy during this very difficult time.
Bill Hemmer announced the sad news this morning on "America's Newsroom," which then aired a tribute package from Fox News Channel host Sean Hannity, his former co-host on "Hannity & Colmes."
In a statement this morning, Hannity called Alan Colmes "one of life's most decent, kind and wonderful people you'd ever want to meet."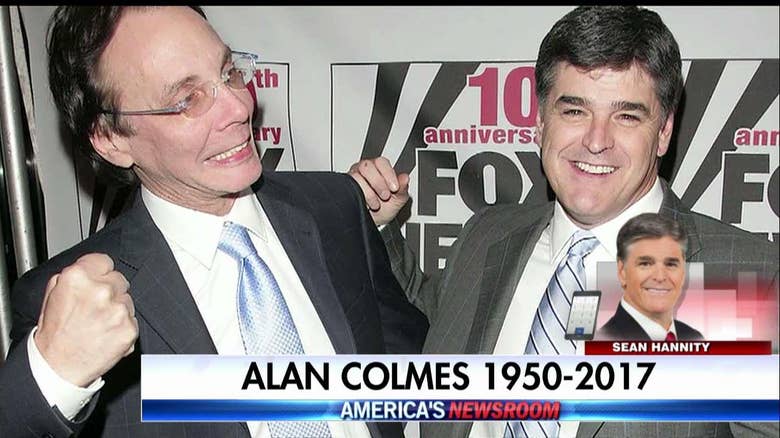 Colmes was known for his electric commentary and for the fierce debates across Fox News programs since the channel's launch in 1996. "Hannity & Colmes" debuted on Fox News in 1996 and ran until Jan. 2009.
Colmes also hosted the nationally-syndicated "Alan Colmes Show" on Fox News Radio. He addressed his recent absence from the show in a note to listeners on Jan. 30.
"As I previously mentioned on the show last year, there would be times I would be taking off from the show to deal with a medical issue. This is why I've been out recently and will be out this week as well. But I will be back taking your calls as soon as I can," he wrote.
Colmes' passing comes just days after the death of Fox News Channel's Brenda Buttner, who died at age 55 after a battle with cancer. Neil Cavuto remembered the "Bulls & Bears" host on his show Monday.
Friends and colleagues are remembering Alan this morning on Twitter…