Ferguson Police refuse releasing name of officer who shot Missouri teen, citing death threats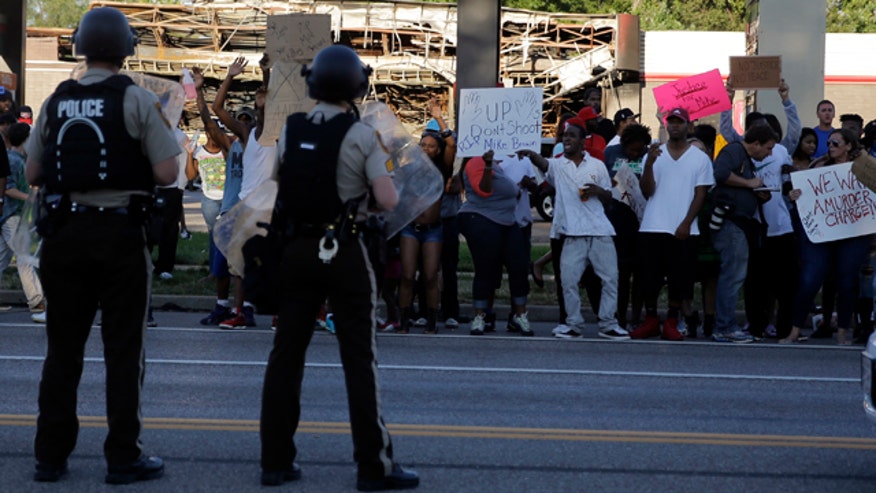 The Rev. Al Sharpton pressed police Tuesday to release the name of the officer who fatally shot an unarmed black teenager in suburban St. Louis, and he pleaded for calm after two nights of violent protests over the young man's death.
Police said death threats prompted them to withhold the name of the officer, who was placed on administrative leave after fatally shooting 18-year-old Michael Brown in Ferguson, where the incident has stoked racial tension, rallies and a night of looting.
Investigators have released few details, saying only that a scuffle unfolded after the officer asked Brown and another teen to get out of the street. At some point, the officer's weapon fired inside a patrol car, police said.
"The local authorities have put themselves in a position — hiding names and not being transparent — where people will not trust anything but an objective investigation," Sharpton said during a news conference in St. Louis where he was joined by Brown's parents.
He also echoed pleas for peaceful protests by the NAACP and Brown's father, Michael Brown Sr., who told the crowd: "I need all of us to come together and do this right. … No violence."
President Barack Obama also urged calm, saying people must comfort each other "in a way that heals, not in a way that wounds."
Missouri Gov. Jay Nixon told a standing-room only crowd at a community forum Tuesday night that the shooting feels "like an old wound torn fresh" in a nation still struggling with race relations.
The forum, held at a church, was organized as an alternative response to two nights of unrest in which more crowds have burned stores, vandalized vehicles assaulted reporters and taunted officers. Ferguson's mayor and police chief also attended the meeting and were welcomed with applause.
Earlier in the day, Police Chief Tom Jackson said he had decided against releasing the officer's name Tuesday after death threats were called into police and City Hall and posted on social media. Jackson said it could be weeks before he releases the name.
"If we come out and say, `It was this officer,' then he immediately becomes a target," Jackson said. "We're taking the threats seriously."
The officer has been with the force for about six years and was on a routine patrol when he encountered the two young men, Jackson said.
Police have not disclosed the race of the officer, but witnesses said he was white. Brown was black.
The Ferguson police force has 53 officers, three of whom are black. Jackson said the city has had trouble recruiting and retaining black officers.
Read more @ Fox News