First Cop in Freddie Gray Case Innocent on All Charges, Mayor to Lynch Him Anyway
Officer Edward Nero, the first police officer whose trial in the death of Freddie Gray has been resolved, was found innocent of all charges today by Circuit Judge Barry Williams today in Baltimore.   Yet, despite being found innocent, Williams' will now face administrative review by the police department.  So, even after you are found to be innocent, Mayor Stephanie Rawlings-Blake is out to lynch the officers, who should never have had charges filed against them in the first place.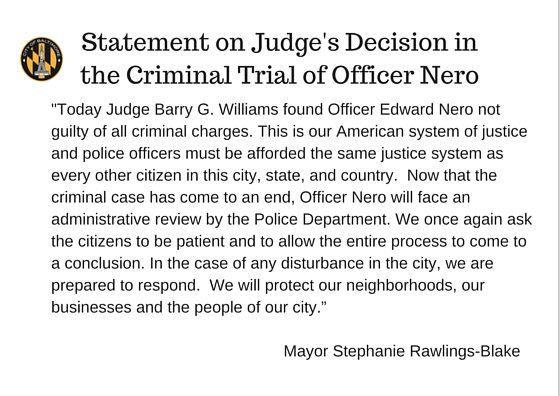 The Baltimore State Attorney, Marilyn Mosby used false facts and hid exculpatory evidence from the defense attorneys.  In making the case for prosecution, Mosby claimed that it was a false arrest because the knife Gray had was legal.  It was legal in Maryland but illegal in Baltimore, so that was a lie.  She also hid important facts concerning Freddie Gray and his extremely long criminal record.
It seems that among the numerous criminal pursuits of Freddie Gray, he was a con man, who operated a cash for crash scheme.  In this type of scam, people intentionally hurt themselves in order to collect insurance settlements.  Why is this important?  Two reasons.  First, it would explain why Gray was banging himself in the back of the police van and secondly, the coroner would have paid closer attention to see if all of Gray's injuries were current or whether he was injured before and made it worse on the day of his arrest.
The police who were investigating Freddie Gray's cash for crash schemes were ordered to stand down from their investigation by Mosby's office so as to not "not to do the defense attorneys' jobs for them."  Another tidbit withheld by Mosby's office was that Gray once hurt himself while in the Baltimore jail so severely, he required medical attention.  Had the coroner known about Gray's previous history, she may have come to a different conclusion.  Had she known that Gray had a history of hurting himself badly, she may not have concluded his death was a homicide.
There's more.  Prosecutors allegedly withheld statements from witnesses who said that Grey had been banging against the inside of the van and rocking it on the day of his arrest.  It has also been asserted that prosecutors received evidence that Freddie Grey tried to hurt himself during previous arrests.  Both of these items were withheld from defense attorneys, raising questions about the ethics of Mosby.  Hiding exculpatory evidence is grounds for disbarment.
This goes beyond guilty until proven innocent.  This is guilty even after being proved innocent.
I wonder how many drug stores will get looted tonight.