Keith Scott Had a Stolen Gun..Wife Lied About Him Being Armed
Just like the Michael Brown case in Ferguson that fell apart as more evidence came out, so too has the Keith Scott case self destructed.  Two new revelations have taken a huge chomp out of the credibility of the narrative built up by the mainstream media.  The first item is that the gun Keith Scott had was stolen.  A breaking and entering suspect who stole the gun has now admitted selling the gun to Scott.  Even more damning is the restraining order she filed against her husband.  In it, she claimed that he had a gun, had hit her and one of her children and had threatened to kill her.
That is especially damning since it was she that claimed her husband never had a gun.  That lie she told led to accusations that said that Scott never had a gun abd that police planted the one in the video.  The riots in Charlotte have been going on for a week now.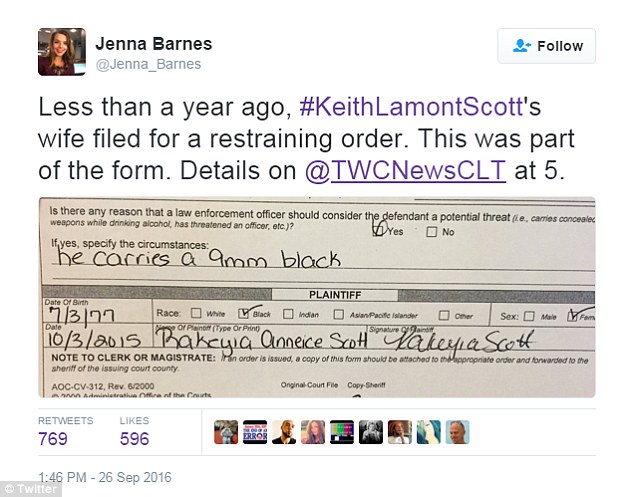 Rakeyia detailed her husband's behavior in the filing in October last year. She said he had hit her and one of her children.

'He hit my 8 year old in the head a total of three times with is [sic] fist,' she wrote on the form published by TWC News.

'He kicked me and threaten [sic] to kill us last night with his gun. He said he is a "killer" and we should know that.'

The form asked whether there was any reason that law enforcement should consider the defendant a potential threat. Possible reasons included carrying concealed weapons while drinking alcohol and having threatened an officer.

Rakeyia ticked 'yes' and specified: 'He carries a 9mm black.'