Target Stores abruptly cancelled two expansion plans as sales and stock prices have combined to send the giant retailer into a nosedive after they decided to choose transgenders over young boys and girls.  That led to people cancelling their Target credit cards and to boycott the chain.
Target has lost 10 billion in market cap after their stock plunged from 83 dollars a share on the day the boycott started until it reached it's present value of 64.77 a share.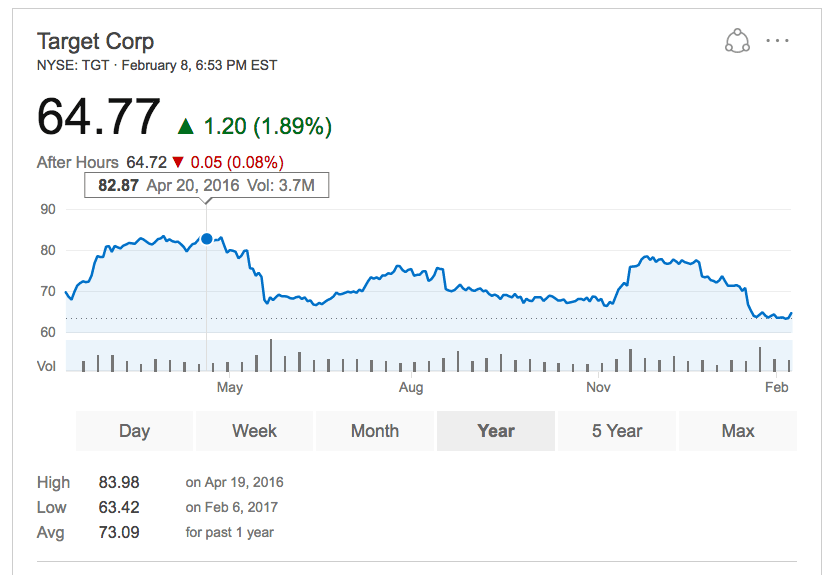 Target announced it was shutting down a project billed as the "Store of the Future." The project was aimed at developing a new outlet design that would consist of a smaller upfront retail store fronting a warehouse with robots picking items for the customers up front, recode.com reported. The closure was so sudden that it caught the project's manager by surprise.
This project was expected to incorporate its Internet-based e-commerce offerings and was also set to offer space for customers to attend classes or have "meet-ups."
The second project was codenamed "Goldfish,"and it was intended to create an online marketplace upon which other retailers and manufacturers could sell products to customers through Target.
Target tried to pooh pooh the newest developments as having nothing to do with a boycott:
At Target, we regularly pause to evaluate our business and have to make tough choices about where our company is best served to invest our time and resources. We recently made some changes to the innovation portfolio to refocus our efforts on supporting our core business, both in stores and online, and delivering against our strategic priorities. Target remains absolutely committed to pursuing what's next. We see a tremendous opportunity to drive innovation in areas that will fuel our growth both in the short and long-term in areas such as digital, technology, supply chain and merchandising.
Recent polling shows that only 22.7% of people  approve of Target's Pervert Bathroom Program.