Tragedy Strikes Kenya At Garissa University, Hundreds Reported Dead
At least 147 people, mostly students, have been killed in an assault by al-Shabab militants on a university in north-eastern Kenya. Heavily armed attackers stormed Garissa University early on Thursday, killing two security guards then firing indiscriminately on students.
Four of the gunman were eventually surrounded in a dormitory, and died when their suicide vests detonated. It is the deadliest attack yet by al-Shabab.
The militants singled out Christians and shot them, witnesses said. More than 500 students managed to escape, 79 of whom were injured. A fifth gunman has reportedly been arrested.
Eric Wekesa, a student at Garissa, told Reuters he locked himself in his room before eventually fleeing. "What I managed to hear from them is 'We came to kill or finally be killed.' That's what they said." "It was horrible, there was shooting everywhere," another student, Augustine Alanga told the BBC's Newsday programme
He said it was "pathetic" that the university was only guarded by two police officers.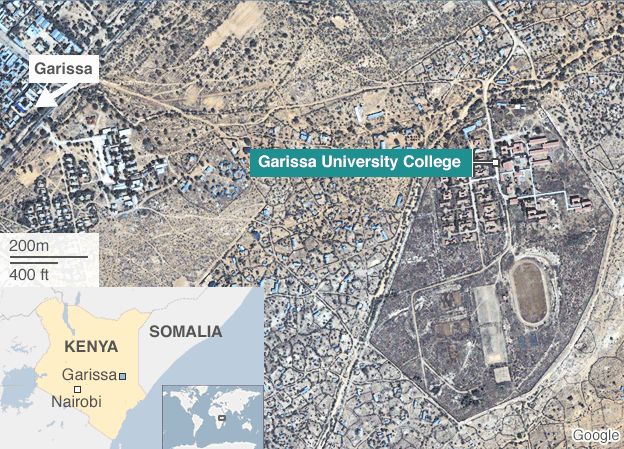 Read More Here