Nicholas A. Wyllie told a judge that every day, he relives the horror of the September morning that his 2-year-old son picked up Wyllie's loaded handgun and fatally shot himself in the chest.
Nicholas Wyllie, 26, of Quakertown, was charged with involuntary manslaughter, endangering the welfare of a child, and recklessly endangering another person in the death of his son, Benjamin Smith, 2.
On Monday, Wyllie pleaded guilty to all three charges against him: involuntary manslaughter, endangering the welfare of children, and reckless endangerment. A Bucks County judge sentenced Wyllie to up to two years in the county prison.
Wyllie, who had no criminal record, also received three years' probation, during which he cannot have firearms. He also must complete 30 hours of community service in gun safety or parenting safety. He has been working with a gun safety organization in Philadelphia to distribute gun locks and plans to do the same in Bucks County after his release.
"This is absolutely heartbreaking," Wyllie, 27, told the judge, according to the Bucks County District Attorney's Office. "That was my boy."
The victim, Benjamin Austin Smith, had several toy guns and had been taught a two-handed grip, police said.
In September, Benjamin picked up the .45-caliber handgun his father kept loaded on a nightstand in the boy's great-grandparents' home in Milford Township. Wyllie was in another room.
The boy shot himself and died at St. Luke's Hospital in Quakertown.
Wyllie's lawyer, John J. Fioravanti Jr., said his client received "a fair sentence under the circumstances."
"It was one of the saddest cases I've ever handled," he said. Wyllie is "very sincerely damaged by this."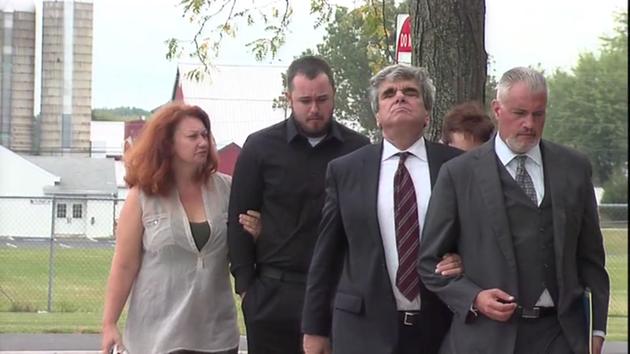 At court Monday, the boy's mother described her only child as someone who cared about other people and loved Batman, animals, and playing outside. "Benny" almost always had a smile on his face.
"He was simply love," Courtney Hotaling said. With her son gone, "it seems as if my heart and soul are also gone," she said.
She said she feared she would not be able to trust anyone again.
"My son trusted his fragile life to [Wyllie] and he was not protected," she said.
Benjamin's grandmother Janice Smith told the judge her daughter had always wanted to be a mother. Smith said she has to live with both seeing her daughter in pain and her own grief.
"Ben was loved," Smith said, "is loved, and will always be loved."
This is why you use gun locks when a toddler is in the house.  Because he didn't this father will serve a life sentence of knowing he's responsible for his two-year-old son's death.  Just a tragedy all the way around.
H/T Philly.com