Hillary Investigation Was a Cover Up From The Word Go
The FBI has confirmed that all of the agents involved in the investigation were forced to sign non disclosure agreements.  This indicates the fix was in for Clinton even as the FBI was gathering information about crimes she committed at the State Department.  News reports have come in that agents are upset by the lack of prosecution.  Considering that they saw the evidence firsthand, that leads me to believe that the entire investigation was a cover up.  The evidence in the case will never see the light of day.  The State Department has the FBI records and we know they will never release it.  Agents cannot discuss what they found.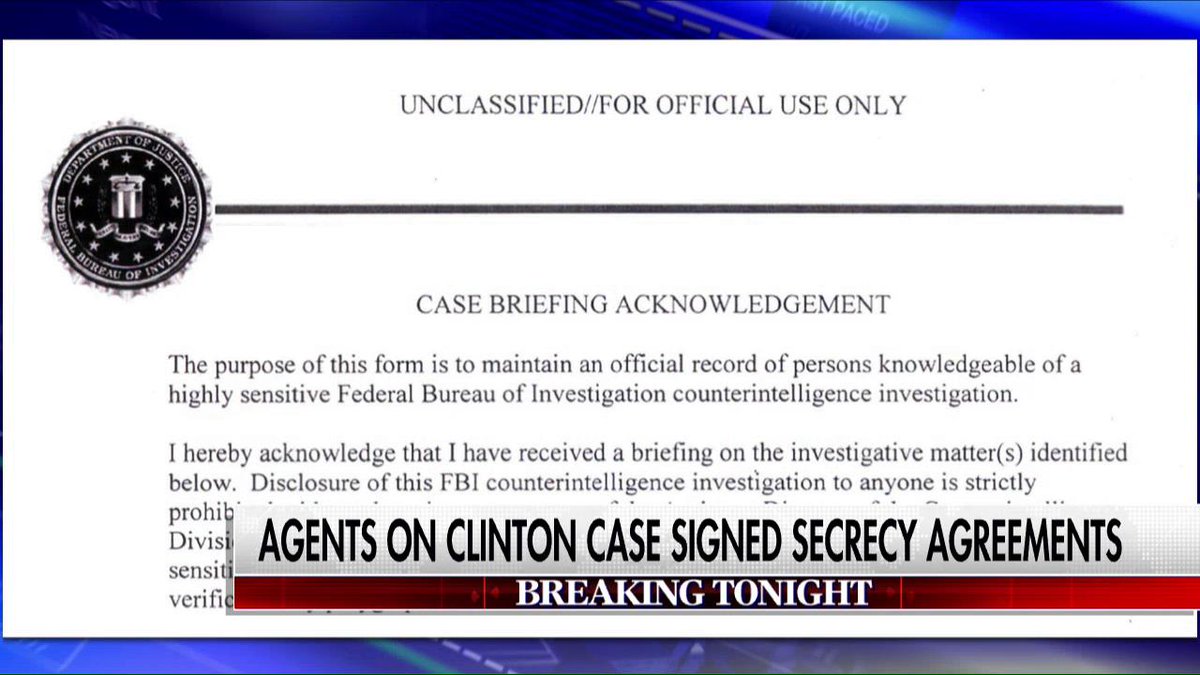 "The purpose of this form is to maintain an official record of persons knowledgeable of a highly sensitive Federal Bureau of Investigation counterintelligence investigation.  I [FBI agent] also understand that, due to the nature and sensitivity of this investigation, compliance with these restrictions may be subject to verification by polygraph examination."
The FBI can give agents lie detector tests to see if they spoke to the press, meaning they would be risking their jobs, their pensions and even their freedom and cannot take advantage of whistleblower laws that do not apply here.
There is only one way we will ever know what is in the report.  Elect Donald Trump.  That may not even help as this administration is noted for destroying evidence even when it is protected by a federal subpoena.  House leaders filed an impeachment indictment for John Koskinen, director of the IRS for such an action just yesterday.
The revelation of this measures further shows how much effort the agency has put forth to keep sensitive details related to the investigation from reaching the public. Comey has offered some reasoning for why he chose not to recommend charges against Clinton, but Attorney General Loretta Lynch continually dodged questions on specifics about the case in a House hearing Tuesday.

The "Case Briefing Acknowledgement" is reserved only for "the most sensitive of sensitive cases," one recently retired FBI agent, who spoke on condition of anonymity, said, adding that the practice can have a "chilling effect" on agents who understand "it comes from the very top and that there has to be a tight lid on the case."
We will never know how much money Loretta Lynch is to receive from the Clintons for all of her hard work in burying criminal charges against Hillary.
"We the People" never had a chance.  And if Hillary is elected, we can expect more of the same.  If you think she was able to make money as Secretary of State, wait till you see how much she makes as president.