In November of last year, Kellogg's declared war on Breitbart News and it's 45 million readers.  According to Kellogg's we Breitbart readers do not share their values.  As a result, they pulled all their advertising from the Breitbart pages.  Breitbart then called for their readers to take part in a #DumpKellogg's boycott.  It's now almost 3 months later and Breitbart didn't feel any loss of revenue as a result of Kellogg's pulling out as other companies picked up the slack.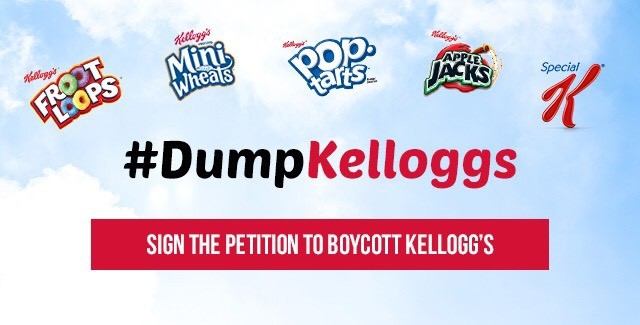 Kellogg's on the other hand isn't doing so well.  On Thursday they announced they were closing 39 plants and would be laying off approximately 30 employees in each of the 39 distribution warehouses.
Kris Charles, spokesperson for Kellogg's issued the following statement:
While this is the right move for the company to achieve our long-term objectives, it was a difficult decision because of its impact on employees. On average, our distribution centers employ approximately 30 full-time workers.

As the distribution shifts from our network to our retailers' networks, so too will the work. We've been actively engaged in conversations with some of our biggest retail partners who have expressed strong interest in hiring these employees for high-demand roles once the transition is complete. As a result, we are optimistic that our employees will find similar employment once this transition is complete so the net impact is impossible to quantify. As the affected employees work throughout the U.S., this change will not have a sizable impact on any one community."
John Bryant, Kellogg Company Chairman, and CEO, said:
(The) "retail landscape continues to change" and Kellogg has to keep up with that shift. "We have to change the way we reach and communicate with consumers. Because our customers' and our own warehouse distribution systems have become more efficient and effective, we can now redeploy resources previously tied to DSD and direct them to the kinds of brand investments that drive greater demand with today's consumers − ultimately growing our business and our retailers' businesses."
Anyone wanna buy a bridge?
Breitbart 1 Kellogg's zilch