The Huffington Post has an 18 year old Syrian refugee writing for them and they are not in the least offended by what he writes. And believe me, he writes plenty of offensive stuff.  Now, if you are a liberal woman , the Huffington Post is your Bible, so you should never go out alone at night unless you want to be raped.  Naturally you are more than happy to give up your freedom for your ideology, after all, you are willing to give up other people's freedoms for your ideology.
In a perhaps revealing statement about the attitudes of Syrian refugee men, Bacho — who writes frequently for the Huffington Post's German website — said: "Most of the time the women are to blame. To be alone at night. On the other hand, the refugees should behave".
He tagged the tweet "Silvester" or "New Year's" in German.
Daran sind meistens die Frauen schuld. Nachts alleine zu sein. Andrerseits sollten sich die Flüchtlinge benehmen. #Silvester

— Aras Bacho (@ArasBacho) December 12, 2016
His tweet, on his verified account, has been live for over 5 days at the time of publication, and the Huffington Post shows no signs of relieving him of his duties as a columnist, with his latest column being filed 5 days after the offending tweet.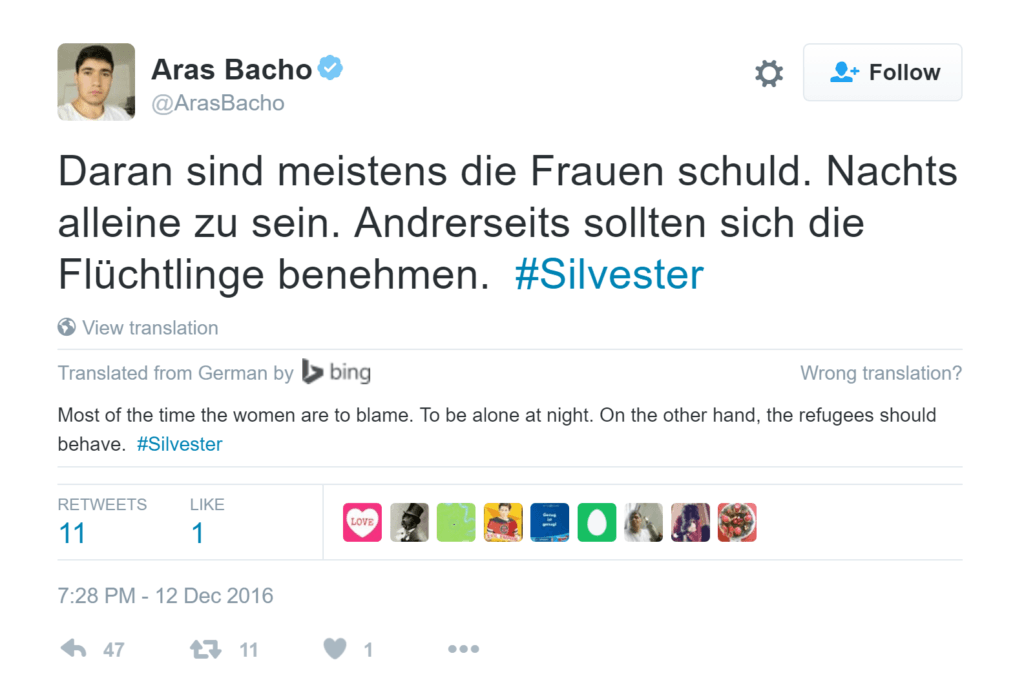 His comment drew ire from Twitter followers and users, with the first response stating: "In this country, women have the right to be alone at night! Migrants have a duty to behave!"
Another social network user called his comments "dangerous" while some queried whether he was making the statement just to get attention.
It is not the first time Mr. Bacho has courted controversy either.
In October the HuffPo writer demanded all signage in the country be translated into Arabic, and his HuffPost columns make demands of more policing to protect migrants, more money from the German people, and even for state-sponsored smartphones for migrants.
Mr. Bacho's tweet came just as Breitbart London revealed that out of 1300 reported sex attacks on New Year's Eve in Cologne alone, only 18 convictions have been made so far.
Bacho moved to Germany from Syria five years ago and has become a regular columnist on migrant issues across German media.
He has previously said that people who are unhappy with Chancellor Angela Merkel's open border policies should leave the country.