President Donald Trump in addressing a join session of Congress Tuesday night should put to rest the Trump Derangement Syndrome suffered by many American liberals.  We will know by their reactions to tonight's speech.
H/T Breitbart News
Welcome to the Breitbart News Livewire of President Donald Trump's first address to a Joint Session of Congress. The president will address the nation at 9:00 pm eastern from the Hall of the House of Representatives, where he is expected to lay out a broad vision of his administration's agenda.
Topics he's expected to address include Obamacare, immigration, the border wall, his budget, military buildup, veteran affairs, national security, trade, jobs/the economy, education, and law enforcement. He'll touch on the same themes that propelled him to the White House. Look for an emphasis on America First — with the phrase "buy American and hire American" as his administration's policy lodestar.
Capitol Hill is looking for any indication of Trump's preference on the various Obamacare replacement proposals. Politico, however, reports that Trump is unlikely to embrace any specific plan. Breitbart's Sean Moran offers a primer on the various Obamacare replacement plans.
Trump's budget is also being hotly debated. Jonathan Swan at Axios reports that Trump is not expected to explicitly endorse Speaker Paul Ryan's border adjustment tax tonight, which, Swan reports, Trump's team is "divided on. The nationalist wing of the White House — led by Steve Bannon — supports the plan to raise $1 trillion by hiking taxes on imports. Officials closer to corporate America, including top economic advisor Gary Cohn and Treasury Secretary Steve Mnuchin, are said to be deeply skeptical." Ryan wants the border adjustment tax to offset any Trump tax cut proposal. Swan has updated his initial story to note the White House talking points about the address state: "We must have fair trade for our workers – foreign countries can no longer be allowed to tax our exports while shipping goods into our country for free." This language might suggest an openness to the border adjustment tax concept or simply signal a willingness to use tariffs.
The budget debate is also expected to be contentious in the coming weeks with Sen. Lindsay Graham (R-SC) declaring the president's budget "dead on arrival" because of Trump's proposed cuts to the State Department.
Meanwhile, there are also reports that Trump might be open to "an immigration bill as long as there is compromise on both sides." As Breitbart's Neil Munro points out, take these reports with a grain of salt until further details of such a deal are hashed out.
We can also expect the usual D.C. partisan drama tonight. Some Democrat lawmakers are boycotting the address, including Rep. Maxine Waters (D-CA). Others are bringing illegal immigrants with them as their guests. First Lady Melania Trump's guests, on the other hand, reportedly include Jessica Davis, Susan Oliver, and Jamiel Shaw, Sr. — each of whom lost loved ones to illegal immigrant criminals.
Stay with us throughout the evening as we offer live updates. All times eastern.
Watch the speech live on Breitbart's Facebook here.
***
11:31 pm — America liked it. Bigly.
11:28 pm — Coulter in fine form tonight as usual.
11:22 pm — A new record:
11:21 pm — Even Alexrod…
11:16 pm — Team DNC…
11:14 pm — Sad.
11:09 pm — Here's video of Van Jones' comments…
11:06 pm — hail to the chief…
11:05 pm — 
Speechless…
10:57 pm — Grumpy Chuck…
10:52 pm — For what it's worth, here is more from Luntz's focus group:
10:51 pm — Was he someone's guest?
10:48 pm — So awkward…
Senator Rand Paul (R-KY) reminds Beshear…
10:45 pm — From the New York Times' LA bureau chief:
And they wonder why Trump calls them the "opposition party."
10:42 pm — Wow.
10:41 pm — Watch the video of Trump's address here.
10:32 pm — 2020…
Tucker Carlson on Fox News commenting on the Democrats' response: "They found the only person in Kentucky who didn't vote for Donald Trump."
10:29 pm — Even Beck…
Other reactions:
10:26 pm — Sad.
10:22 pm — Former Alaska Governor Sarah Palin tells Breitbart News that "Trump articulated real hope without the dope. It was refreshing and a relief after all that we've experienced over the past 8 years."
10:14 pm — 
10:10 pm — Sad behavor from these Democrats. As JFK famously once said about Nixon: "No class."
10:10 pm — Trump calls on all Americans to seize the moment… "The time for small thinking is over.  The time for trivial fights is behind us … I am asking all citizens to embrace this Renewal of the American Spirit.  I am asking all members of Congress to join me in dreaming big, and bold and daring things for our country.  And I am asking everyone watching tonight to seize this moment and — Believe in yourselves. Believe in your future. And believe, once more, in America. Thank you, God bless you, and God Bless these United States."
10:06 pm — Trump is concluding his address on a positive, upbeat message of American greatness. "When we have all of this, we will have made America greater than ever before. For all Americans. This is our vision. This is our mission. But we can only get there together. We are one people, with one destiny. We all bleed the same blood. We all salute the same flag. And we are all made by the same God."
10:05 pm — Trump sounds a foreign policy message that harkens back to George Washington. "America is willing to find new friends, and to forge new partnerships, where shared interests align.  We want harmony and stability, not war and conflict."
10:03 pm — Big applause for this: "My job is not to represent the world.  My job is to represent the United States of America." Trump called for NATO to pay their fair share. 
10:01 pm — Sustained applause for this: "We are blessed to be joined tonight by Carryn Owens, the widow of a U.S. Navy Special Operator, Senior Chief William "Ryan" Owens.  Ryan died as he lived:  a warrior, and a hero –- battling against terrorism and securing our Nation. I just spoke to General Mattis, who reconfirmed that, and I quote, 'Ryan was a part of a highly successful raid that generated large amounts of vital intelligence that will lead to many more victories in the future against our enemies.'  Ryan's legacy is etched into eternity."
Ryan's wife, standing next to Ivanka Trump, holds back the tears. Trump ad libbed: "Ryan is looking down right now, and I think he's very happy, because he just broke a record."
Trump continues: "The Bible teaches us, there is no greater act of love than to lay down one's life for one's friends.  Ryan laid down his life for his friends, for his country, and for our freedom –- we will never forget him."
9:53 pm — Trump says: "I have ordered the Department of Homeland Security to create an office to serve American Victims.  The office is called VOICE –- Victims Of Immigration Crime Engagement.  We are providing a voice to those who have been ignored by our media, and silenced by special interests." He then points out the stories of Jamiel Shaw, Susan Oliver, Jenna Oliver, and Jessica Davis — whose families were victims of illegal immigrant criminals. Very emotional reception for families who were forgotten for so long. 
There was, however, an audible groan from Democrats when Trump mentioned VOICE. 
9:52 pm — Trump calls for support of the men and women of law enforcement and the victims of crime. "We must build bridges of cooperation and trust –- not drive the wedge of disunity and division."
9:49 pm — Trump repeats a line that former President George W. Bush often said, "Education is the civil rights issue of our time." He calls for school choice. He highlights another guest — Denisha Merriweather, who attended a private center of learning and "with the help of a tax credit scholarship program.  Today, she is the first in her family to graduate, not just from high school, but from college.  Later this year she will get her masters degree in social work."
9:47 pm — Trump introduces Megan Crowley, who was diagnosed with Pompe Disease, but her own father "founded a company to look for a cure, and helped develop the drug that saved Megan's life.  Today she is 20 years old — and a sophomore at Notre Dame." Trump highlights the story in order to call for reform of the Food and Drug Administration. 
9:46 pm — This isn't the sort of thing you'd expect to see from a Republican president, but it's very much a populist message: "My administration wants to work with members in both parties to make childcare accessible and affordable, to help ensure new parents have paid family leave, to invest in women's health, and to promote clean air and clear water, and to rebuild our military and our infrastructure."
9:42 pm — Trump lays out his vision of Obamacare replacement. It still includes coverage for pre-existing conditions, health savings accounts, tort reform, taking on big pharma to bring down price of drugs, and allowing the ability to purchase insurance across state lines in order to create "a truly competitive national marketplace."
9:41 pm — 
9:39 pm — Huge applause when Trump says he's calling on Congress to repeal and replace Obamacare. And he comes out against the individual mandate! "Mandating every American to buy government-approved health insurance was never the right solution for America."
9:38 pm — Trump on his infrastructure plan: "To launch our national rebuilding, I will be asking the Congress to approve legislation that produces a $1 trillion investment in the infrastructure of the United States — financed through both public and private capital –- creating millions of new jobs."
9:36 pm — Trump addresses immigration reform: "Switching away from this current system of lower-skilled immigration, and instead adopting a merit-based system, will have many benefits:  it will save countless dollars, raise workers' wages, and help struggling families –- including immigrant families –- enter the middle class. I believe that real and positive immigration reform is possible, as long as we focus on the following goals: to improve jobs and wages for Americans, to strengthen our nation's security, and to restore respect for our laws."
9:35 pm — 
9:32 pm — Trump gets a laugh when he mentions his meeting with Harley Davidson executives. He makes the case for fair trade to protect American workers. "I believe strongly in free trade but it also has to be FAIR TRADE. The first Republican President, Abraham Lincoln, warned that the "abandonment of the protective policy by the American Government [will] produce want and ruin among our people."
9:33 pm — Sad.
9:30 pm — 
9:27 pm — Big standing ovation when he mentions he will appoint judges who will defend our Constitution. He points out that Maureen Scalia, the late Justice Scalia's wife is the guest of First Lady Melania Trump. Applause at the mention of his SCOTUS nominee Judge Gorsuch.
9:26 pm — No equivocating in this language: "As promised, I directed the Department of Defense to develop a plan to demolish and destroy ISIS — a network of lawless savages that have slaughtered Muslims and Christians, and men, women, and children of all faiths and beliefs.  We will work with our allies, including our friends and allies in the Muslim world, to extinguish this vile enemy from our planet."
9:25 pm — He makes the case for vetting: "We have seen the attacks in France, in Belgium, in Germany and all over the world. It is not compassionate, but reckless, to allow uncontrolled entry from places where proper vetting cannot occur.  Those given the high honor of admission to the United States should support this country and love its people and its values. We cannot allow a beachhead of terrorism to form inside America — we cannot allow our Nation to become a sanctuary for extremists."
9:22 pm — Here is the Trump who won the election: "We must restore integrity and the rule of law to our borders. For that reason, we will soon begin the construction of a great wall along our southern border. It will be started ahead of schedule and, when finished, it will be a very effective weapon against drugs and crime. As we speak, we are removing gang members, drug dealers and criminals that threaten our communities and prey on our citizens.  Bad ones are going out as I speak tonight and as I have promised."
He calls out Dems directly:
"To any in Congress who do not believe we should enforce our laws, I would ask you this question:  what would you say to the American family that loses their jobs, their income, or a loved one, because America refused to uphold its laws and defend its borders?"
9:20 pm — Sad…
9:18 pm — Trump gets applause for mentioning he cleared the way for the Dakota Access Pipeline, and we'll be using American steel on all the pipelines.
9:16 pm — He explains what he has already done to keep his promises to bring jobs back to the U.S. He also mentions the stock market bump and the cost cutting savings he's already done. He notes the hiring freeze and the efforts to "drain the swamp" by putting a five-year ban on lobbying for former government officials and a lifetime ban on lobbying for foreign governments. He also mentions his order to cut regulations.
9:13 pm — Trump sounds the same themes of his inaugural address and campaign — explaining the movement of the forgotten men and women who propelled his victory in order to "Make America Great Again" by putting Americans first. He gets a standing ovation.
9:10 pm — Trump opens with a unifying statement condemning the recent acts of anti-Semitism and hatred with the desecration of Jewish graves.
9:04 pm — And here he is. President Trump enters the Chamber. No applause from some Democrat lawmakers, just standing in stony silence. The Democrat women in white are notably silent.
9:00 pm — Here is the text of the prepared remarks:
9:01 pm — Some pregame talking points from the Rep. Debbie Wasserman Schultz (D-FL)…
8:59 pm — The VA Secretary Shulkin is the "designated survivor" tonight.
8:58 pm — No surprise…
8:58 pm — The First Lady has entered to applause. And then the cabinet.
8:55 pm —  Democrat women are donning "suffragette white"…
8:45 pm — From the White House Press Pool's Anita Kumar:
Motorcade departed the White House at 8:34 pm on cold, rainy night. POTUS is en route to the Capitol to deliver his first address to a joint session of Congress.

https://twitter.com/cspan/status/836755740031332354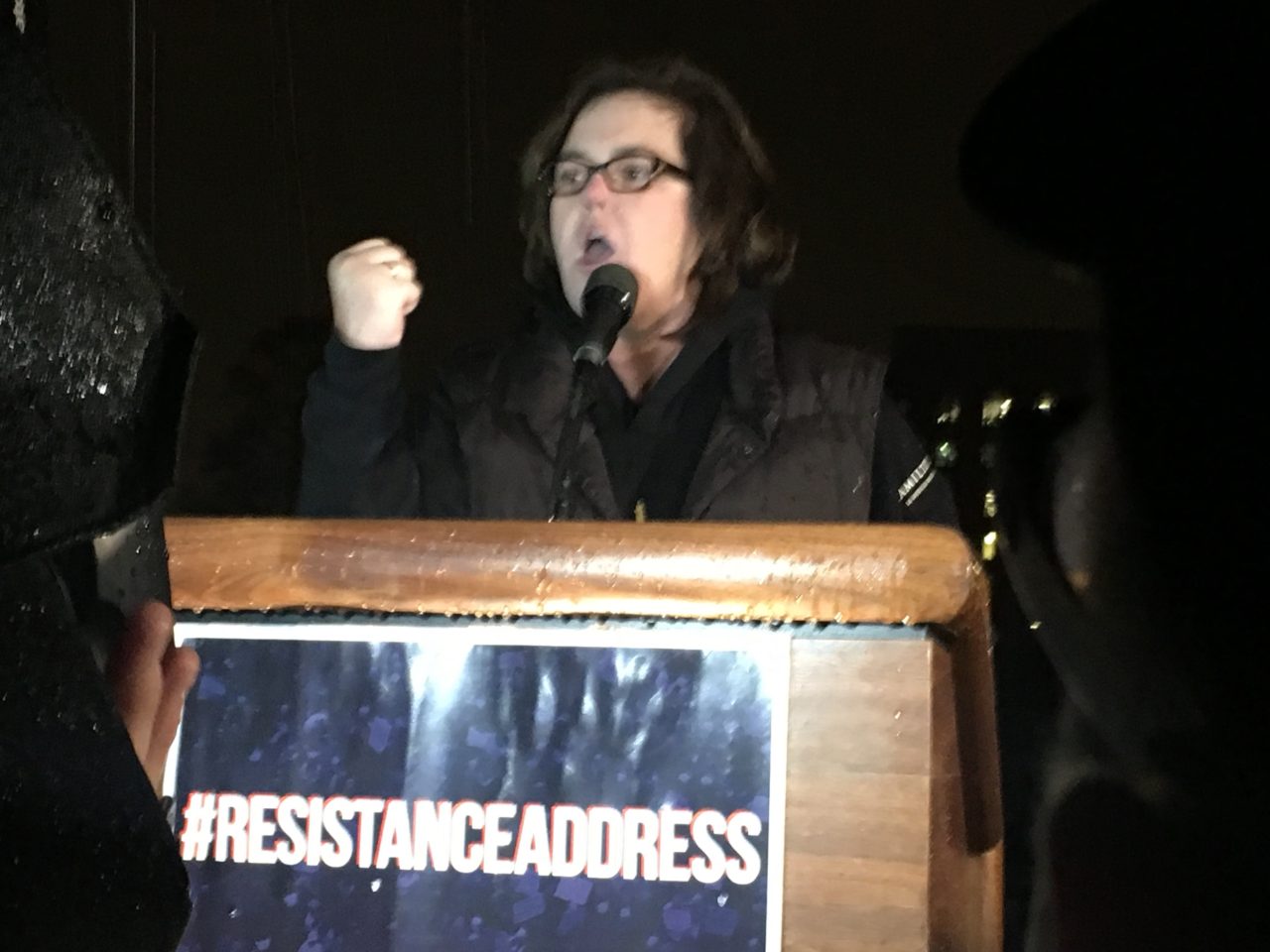 O'Donnell read from the Declaration of Independence, saying, "Whenever any form of government becomes destructive to these ends, it is the right of the people to alter or to abolish it, and to institute new government." She added, "That is why we are here." 

"This is not Russia. To Donald Trump and his pathetic band of white, privileged criminal businessmen, I would like to say to him, 'Nyet! Sir, nyet! nyet! nyet! nyet!'"

"No we won't. We have seen what you have done, sir. We have seen your connection with Russia. The game is over. The Internet rules," O'Donnell said. 

She added, "He lies! He lies! He lies! He lies!" O'Donnell chanted, until several other women in the crowd repeated her words.

"And it's about time they all started saying that, instead of it appears as if he hasn't been speaking the truth. Cut it down to the least-common-denominator like he does," she said, later adding that they were going to go "down and dirty like Donald Trump."

"You know what the truth is? A very handsome conservative man stopped me on my way up with his iPhone, to ask me with his very charming, Irish, 30-year-old face, if George Soros has paid me to come here. And I said, 'Sir I have never met George Soros, but he seems like a lovely man. One day I'd like to share a souvlaki with him.'"

She said she's only met Trump twice. One at his wedding to Marla Maples where she said Trump "shook the hands of the guests at the wedding as he walked down the aisle to take his vows. Warning! Warning! Warning Will Robinson!" O'Donnell said. 

She added, "we will get him out! Thank you, peace and don't fear the rain."
8:19 pm — 
8:18 pm — 
Per Fox News' John Roberts, excerpts from Trump's speech show the president will focus on a broad array of issues. "My budget will also increase funding for our veterans. Our veterans have delivered for this nation and now we must deliver for them," the president will say, per Roberts.
"We cannot allow a beachhead of terrorism to form inside of America. We cannot allow our nation to become a sanctuary for extremists," Trump will also say.
On Obamacare, per Roberts, Trump will say: "Tonight I'm also calling on this Congress to repeal and replace Obamacare with reforms that expand choice, increase access, lower costs and at the same time provide better health care."
The president will also call for stronger immigration enforcement. "By finally enforcing our immigration laws, we will raise wages, help the unemployed, save billions of dollars and make our communities safer for everyone," President Trump will say, according to Fox's Roberts.
8:07 pm — Some speech excerpts trickling out already, including excerpts from the Democrats' response to Trump's address. There seems to be some dispute as to how long the speech is expected to run.
Democratic response excerpt: Pres. Trump "needs to understand that people may disagree with him – but that doesn't make them his enemies." pic.twitter.com/NFpFqAbKYW

— David Goodman (@davidgoodmanFBN) March 1, 2017
8:00 pm — Breitbart's Adelle Nazarian and Lee Stranahan reported from the scene of the anti-Trump protest led by Rosie O'Donnell that took place at Lafayette Park in D.C. across from the White House.
Stranahan notes that some of the signs on display at the protest were provided by MoveOn.org (note the writing on the bottom right of the sign):