You Won't Believe What Note From Chinese Prisoner Found in Purse at Walmart Says
An Arizona woman says she found a note from a Chinese slave laborer while shopping at Walmart.
The author of the note said he or she is a prisoner in China who is forced to work about 14 hours a day with little food or medical attention, reports KPTV.
Similar notes have been found in the past. In 2011, another woman in the US found one inside a Halloween decoration.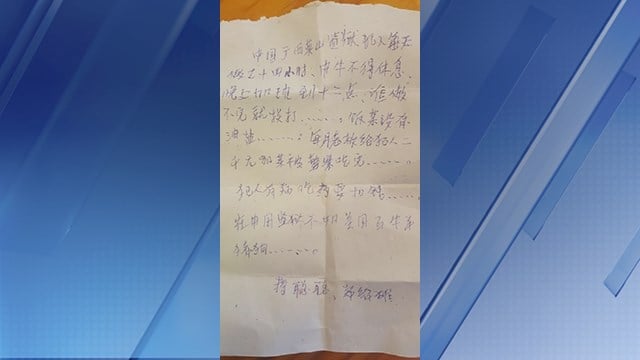 In 2014, a shopper in Northern Ireland discovered a note in a pair of pants she purchased from the European retailer Primark, reported CNN at the time.
"We work 15 hours every day and eat food that wouldn't even be fed to pigs and dogs," the note said. "We're [forced to] work like oxen." It urged the international community to "condemn these human rights abuses by the Chinese government."
The woman who found the note turned to Amnesty International, which has investigated forced labor in China. "I was shocked to find this note and card inside the trousers from Primark and even more shocked to discover that it appears to have been made under slave labor conditions in a Chinese prison," she told AI.
"It's very difficult to know whether it's genuine, but the fear has to be that this is just the tip of the iceberg," said AI's Northern Ireland program director, according to Patrick Corrigan.
China is able to compete in the world market because of labor practices like this.
A New York woman said she was left shaking after finding a letter inside a Saks Fifth Avenue shopping bag purportedly written by a man in a Chinese prison factory that was mass-producing the distinctive carry-all.
Stephanie Wilson, 28, an Australian who lives in Harlem, said she found the message while reaching into the bag for a receipt and it said 'HELP HELP HELP'.
The desperate cry was written in blue ink on white-lined paper and included a passport-sized photo of a man – who called himself Tohnain Emmanuel Njong – in an orange jacket, as well as a Yahoo email address.
'I read the letter and I just shook – I couldn't believe what I was reading,' Wilson said in an interview with DNAinfo New York.
The note said: 'We are ill-treated and work like slaves for 13 hours every day producing these bags in bulk in the prison factory. Thanks and sorry to bother you.'
H/T Opposing Views